Moral Self-Evaluation: Developing and Validating Methodology for Russian-Speaking Populations
Keywords:
morality, moral identity, moral self-evaluation, repertory grid technique
Abstract
Moral self-evaluation can be an important predictor of social behavior, perosnal attitudes and quality of life. It also allows exploring the construction, maintenance, and protection mechanisms of the moral self-scheme as a special type of social identity. Within this study, in a two-stage experiment, the authors develop and test several tools for measuring moral self-evaluation: idiographic and conventional versions of the Moral Constructs Scale based on the repertory grid technique. Both versions were found to be singnificantly related to Moral Self-Approval Subscale, as well as to theoretically relevant constructs (general self-esteem, life satisfaction, moral emotions of guilt and shame), which serves as evidence in favor of their validity. However, the relationship patterns indicate that there may be different types or components of moral self-evaluation. The authors note the multicomponent nature of both versions of the Moral Constructs Scale, reflecting their greater sensitivity in comparison to other scales measuring moral identity and self-esteem. Some possible directions for future research using the proposed tools are discussed in conclusions.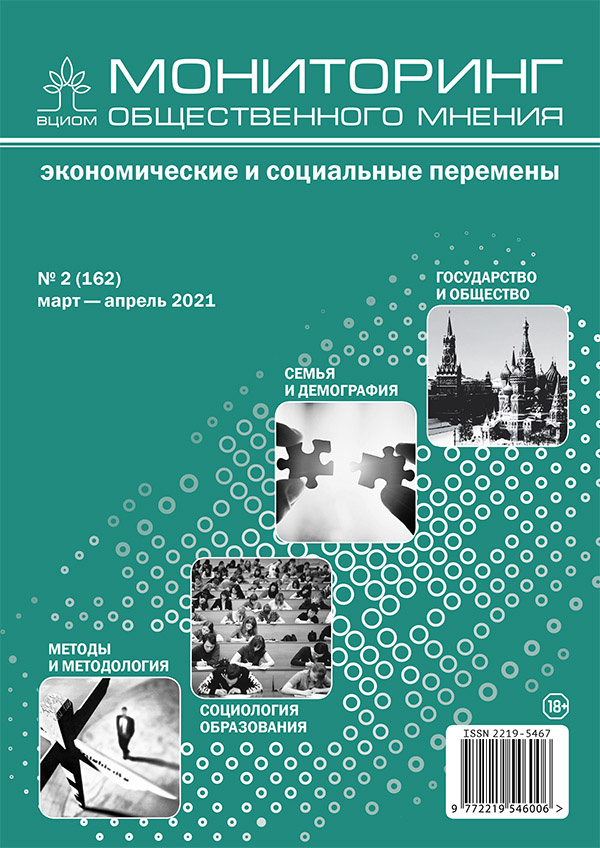 Section
THEORY AND METHODOLOGY
Copyright (c) 2020 Monitoring of Public Opinion: Economic and Social Changes Journal (Public Opinion Monitoring) ISSN 2219-5467
This work is licensed under a Creative Commons Attribution-NonCommercial-ShareAlike 4.0 International License.